The Las Vegas Aces have done it again. Following a record-setting regular season, the defending champs rolled through all of their competition en route to a second ring in two seasons.
For the cover of SLAM 247, two-time WNBA champion Sydney Colson reflects on what this title represents for the city, her teammate A'ja Wilson's legacy, her own self-transformation and the team's place in history. Get your copy and cover tees here.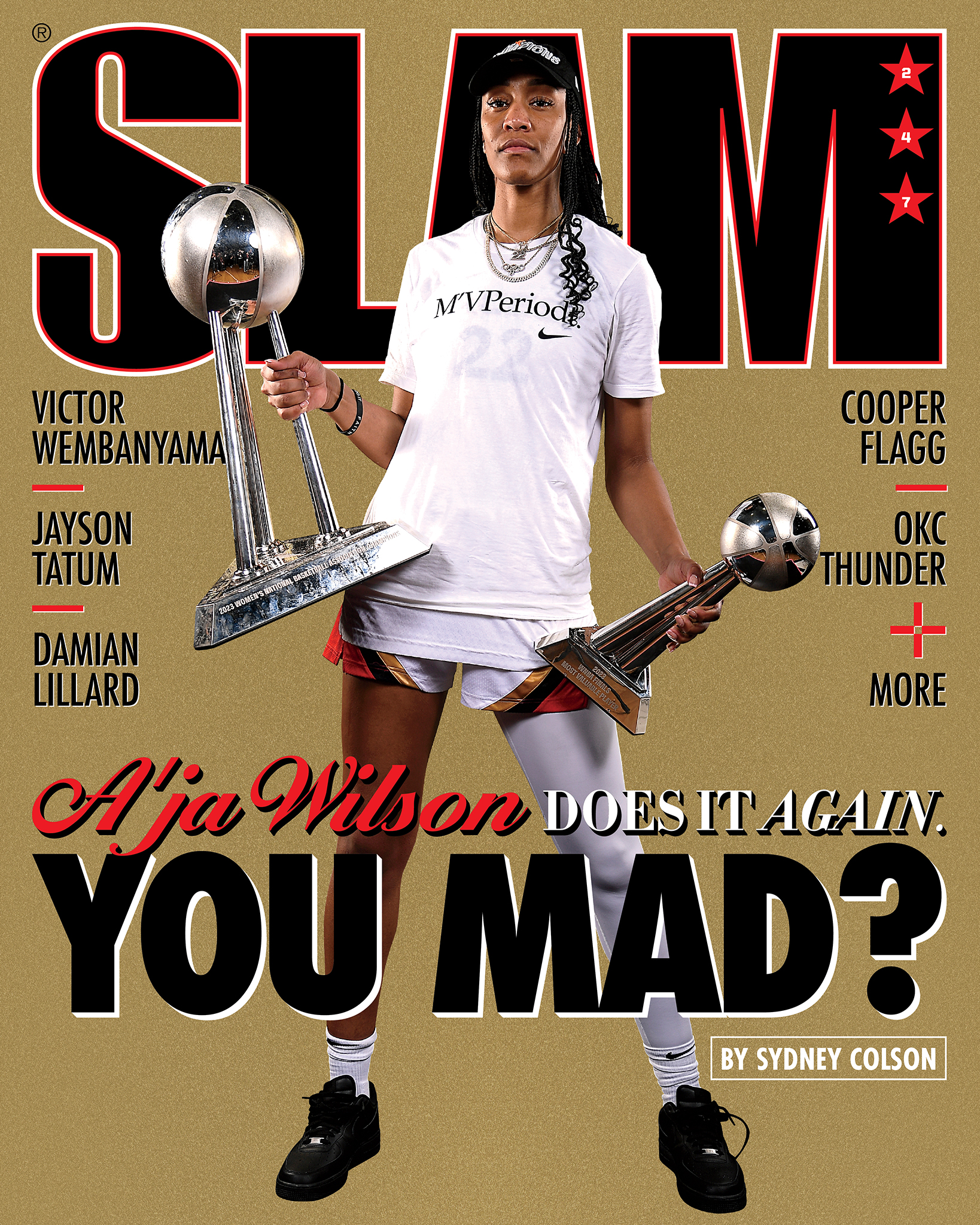 The year I joined the Aces was the first time I met A'ja Wilson. Well, technically I met her during training camp in 2018, but I officially joined the team in 2019, so we'll count that. 
I'd obviously watched her play in college at South Carolina, and I remember thinking, OK, this is their franchise player, but I also wanted to see what she'd do at this level. Looking back, and just seeing the growth that she's made over the years, how vocal of a leader she is and how her game has changed…the way she's branded herself and markets herself, it's so cool to see. 
As I write this now, on the day of the championship parade, it brings me back to that moment. I still remember when I had the phone call with Becky Hammon, which was the first time in my career that I was on the phone with a coach and our GM—usually when you're getting training camp contracts or you're not a guaranteed player, people don't just make calls. She was talking about the culture of the program and how they saw me impacting the team and fitting in the locker room. It was amazing to hear that from her.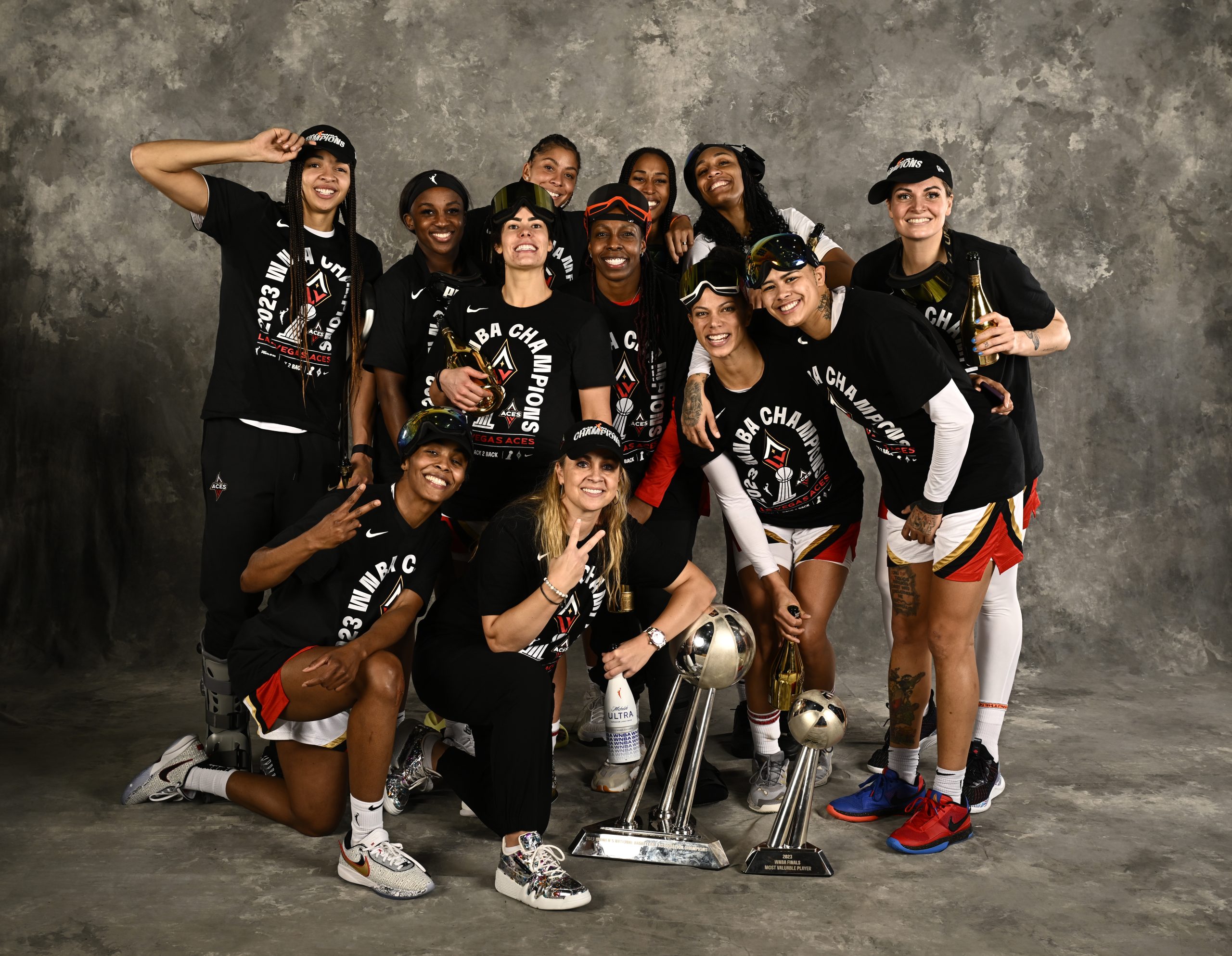 One thing that I can't stress enough is that, as a team, we all genuinely enjoy one another's company. There are times where you feel like, Alright, I need to not see y'all for a couple of days, but that's what regular friends do when you need to recharge and be by yourself. But when we're around each other, it's easy for stuff to flow because it's not forced. Our relationships are as genuine on camera as they are off, and I think that's hard for a lot of people to grapple with because maybe that's not how they are in their real lives. Or you're very weary of joy. Seeing too much joy, you don't believe that it's real, which is sad. But it is real. I feel bad for the people who always have something negative to say when we're genuinely having fun. That's hard for them to fathom, and I get it. You don't see a lot of teams behave like us in professional sports.
I saw someone say that there's never been a team more entertaining than us since the 2016 Cavs. That's interesting, but I think a lot of times, too, in women's pro sports, women will show their personality more than guys. There's some things guys are not going to do in a group because of fear of not being cool enough. But we don't care. We're going to do stuff that's cool, stuff that's corny, whatever. We're just enjoying life, and the quicker people can get hip to that and accept that it's the truth, I think the easier it'll be for them to like and appreciate us. But also, if you don't want to, that's fine, too. We're not losing no sleep.
A'ja embodies that. She just gets it on and off the court. She knows what has to be done and I love how she's unapologetically Black. Ain't no code switching. You are getting A'ja. Her book is coming out, Dear Black Girls, and I know that the reception for that is going to be crazy. Once it's out and people are getting their books, they're going to love to hear her story. I don't even know the full story, so I can't wait to read it, too.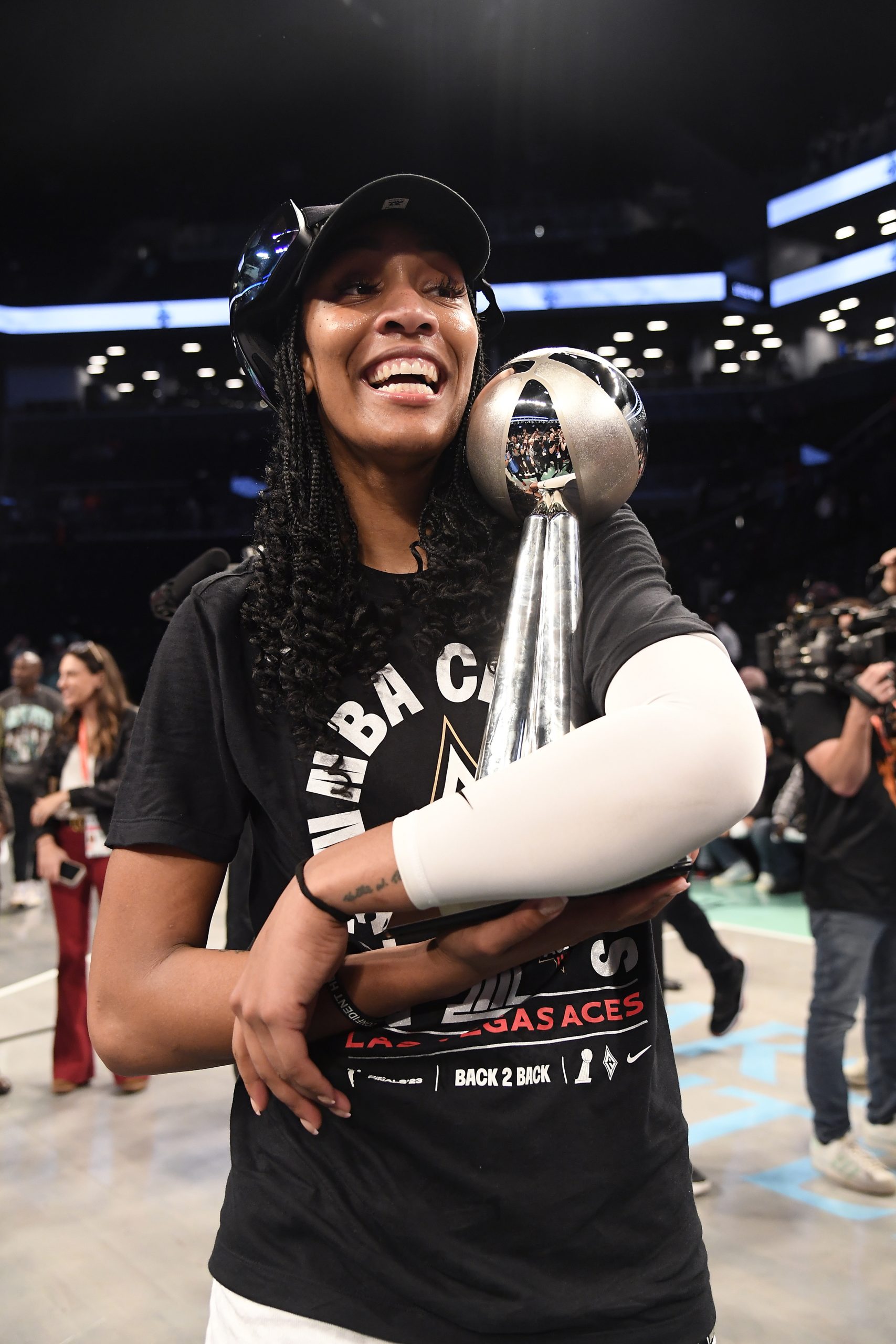 Here's a funny thing you might not know about her off the court, though: she's actually the type of person that, even if they can't make the function, she'll still want an invite. Let me clarify. Before we went out to bingo as a team, Kiah Stokes and Alysha Clark had recommended going and I brought my girlfriend there first a day or two before we went as a team. I was on Instagram Live when A'ja hit me on some, "Thanks for the invite." I'm like, Girl, you don't be going places when we invite you sometimes so I'm not gonna…" She's that type of person. But then we all decided to go, and it was a vibe. 
As for the wigs, I can explain. We really wanted to do them throughout the season with our tunnel fits, but then we lost a game and we were all like, Scratch that, we're not wearing it. We don't want to be doing stuff and look like we're not taking the game seriously. Once the season was done, though, we decided to go play bingo and wear them. As a team, we really do the same stuff you'd do with friends: the movies, going to somebody's apartment, playing games on the road in each other's room, go get dinner, do this or that. 
Our team already had a sense of togetherness last year, and considering a majority of our team returned this season, it was easy to just pick up where we left off. I think this is what makes our team so special: we can just let it flow and remain unbothered about anything. We just joke with each other—we're fake mean like we're siblings or cousins that you grew up with. We have that best friend energy, like, I love you. I wouldn't do this with just anybody. Honestly, joining this team reinvigorated me in a way that made me more appreciative of every moment, especially this year. When the playoffs started, I told myself that if this is the last year, make sure that you're fully present for every practice, every film session, every bus ride when we're joking around together. Make sure that you are enjoying the hell out of every single moment on this run.
I think there was also that added element of people not thinking that we were going to run it back once Chelsea Gray and Kiah went down during the Finals. I remember Coach Becky and the assistants kept saying that it's so much harder to do it the second time. You got to be that much more locked in and focused, because while you have the benefit of having done it, you have that added oomph that people are going to bring when they play you. But A'ja, her confidence is unwavering. She keeps her people around her, and when you've got people who love and care about you, people who at the end of the day, no matter if there's people who don't even know you for real or are doubting you, these things really don't matter. She's got her parents, siblings and loved ones around her. She's not concerned about this internet stuff. She's like, This stuff is for fun, it's for play and a lot of y'all take it to the head. But if we were to get rid of social media and media today, she knows she's got her people who care about her. It's like, I don't need y'all to affirm me in any kind of way.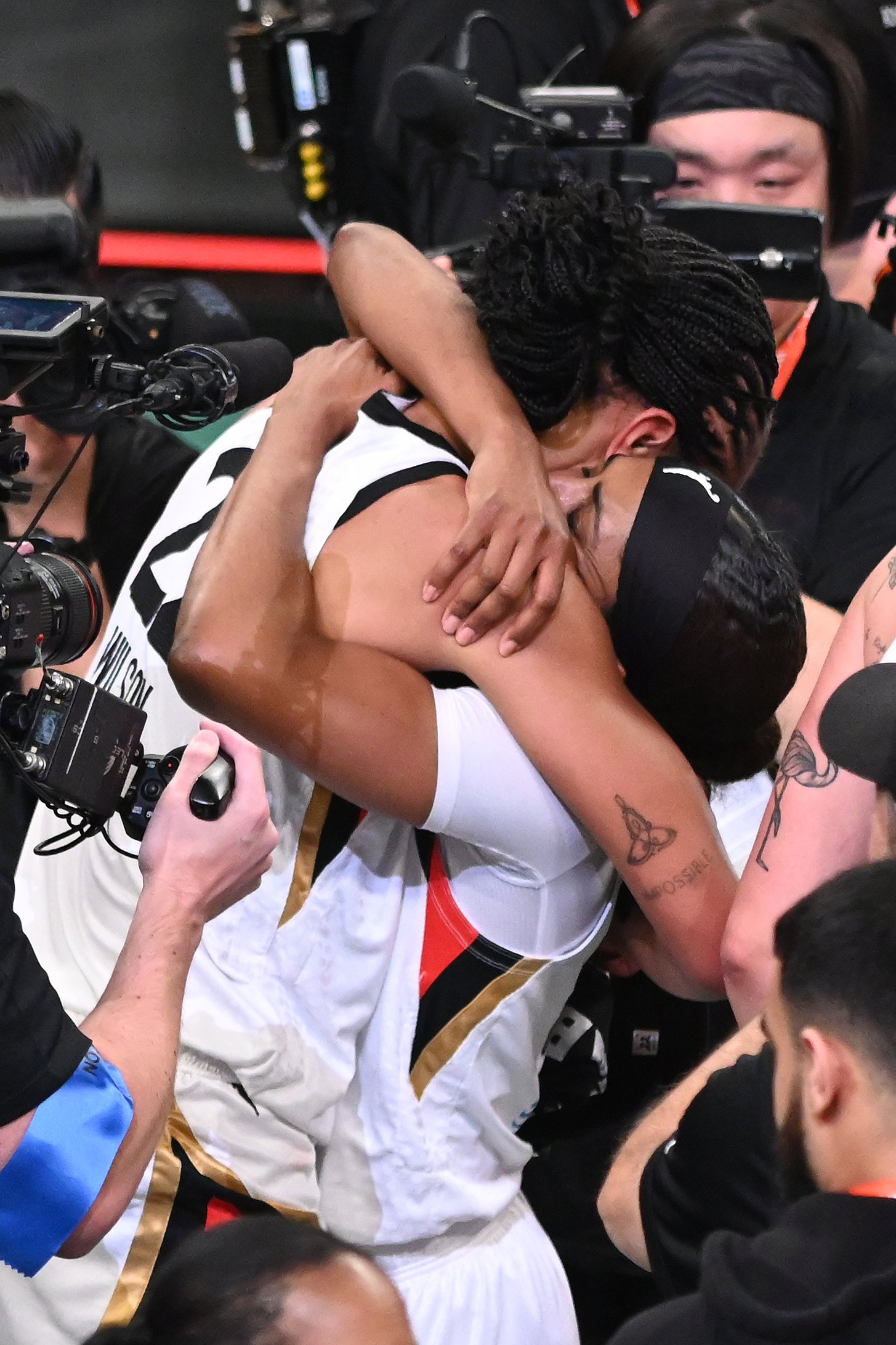 We saw that throughout the playoffs, too. Chicago, they were feisty. They got Kahleah Copper, Courtney Williams, Izzy Harrison will be back in the future. They got people who are gonna talk, but I know they gotta be a fun team because I know some of the players individually. As for Dallas, they're huge. They're like The Monstars: they got players who can score at all three levels, they got good guards, posts, they'll play fast and rebound the ball really well. Coach T (Latricia Trammell) did a good job with them this year. 
As for New York, they're talented. They're a really, really, really good team, and I think our matchup was really great for the game and for the W. When you think about sports, you want to see the rivalries, right? The highlights, the stars are going to be out at the game, viewership will be high. That's what you want to see for many teams around the League and hopefully we're on the way to getting into that. 
It wasn't until after Game 4 in the Finals, as the media was conducting interviews, that I thought about saying something about being disrespected. It's not even that I had to get it off my chest, because I'm not a trash-talking person. I didn't say anything throughout the whole game, but once I stood on that podium, I definitely let my intrusive thoughts win. If you disrespect me publicly, I'm gonna disrespect you publicly. 
While I may have not played a lot of minutes in the League throughout the course of my career, I'm still here. Fortunately, teams and coaches still see my value, but even if they hadn't, I was going to always be good in life because God enables me to see my value. I lowkey get emotional talking about it because I'm like, He will put things in your life and people in your path. Even when I think about how my faith has grown from when I got to the League to where I am now, I'm a transformed person. I want to do something to make God proud, to make my family proud, to make myself proud.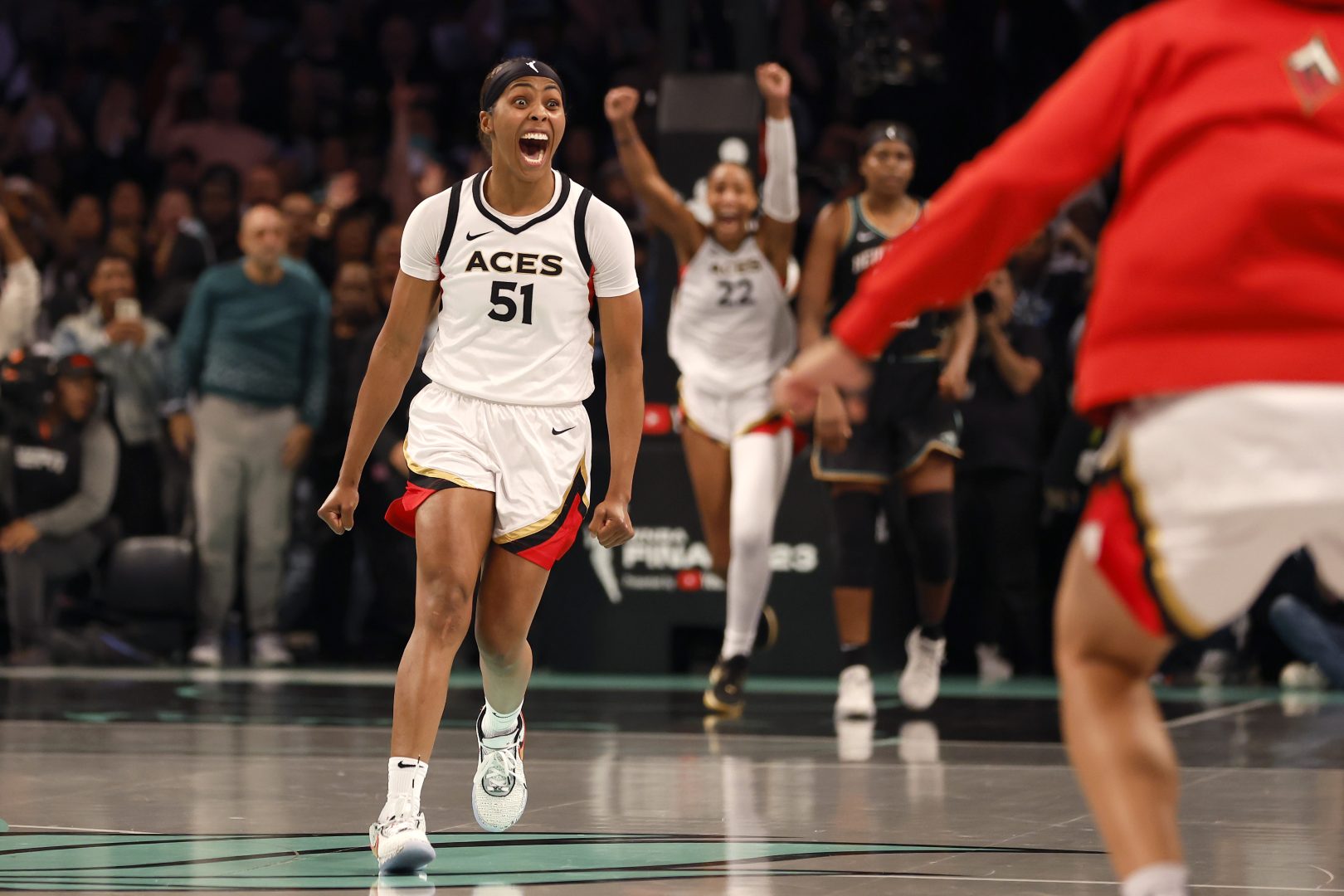 This is one of those moments. It's taken me a couple of days to process everything; I was just telling Alysha about it, that it still doesn't feel real. I think partially because it's really, really hard to go back to back and, as we saw, it hadn't been done in 20 years. I think it just hadn't set in for us. Like, dang, we did it. We're really going to get to celebrate another one again.
It was dope last year to be the first pro team to win one here in Las Vegas—obviously the Vegas Knights, shout out to them. They won the Stanley Cup. Hopefully they repeat, too. That'd be awesome. It just feels cool to be in a city where that wasn't what it was known for, but hopefully people are coming into Vegas now, not just to go to the Strip, but because they want to come see us play.
To the fans: I speak for all of us in saying that we appreciate the support so much. It's amazing to be able to go out there and feel how electrifying the arena is and how you love our team and appreciate us being role models to your children. When you stop us to sign autographs and take pictures, that makes us feel cool. It makes us feel supported and appreciated. You all are the best fans in the League. 
We're truly blessed.
---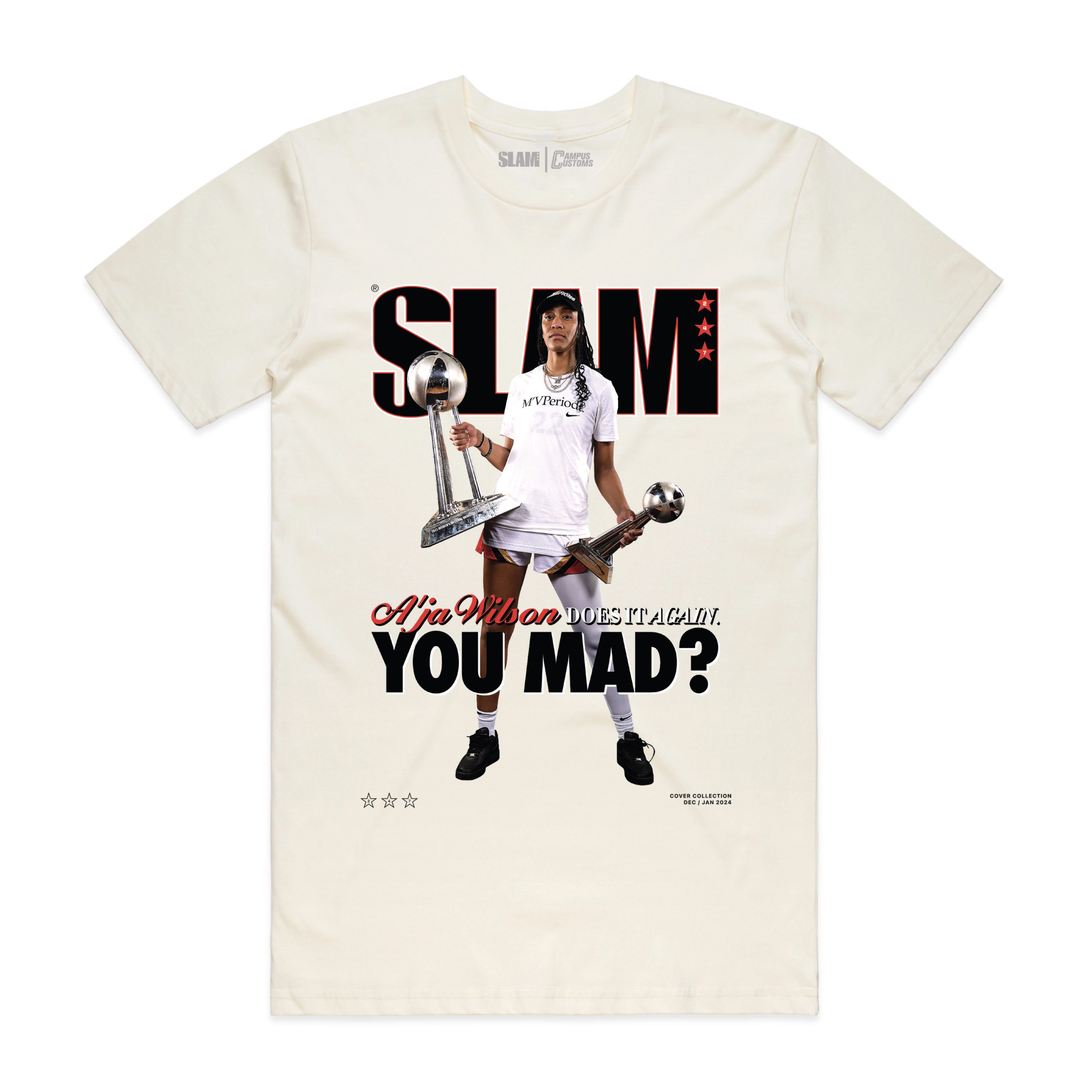 SLAM 247 cover tees and more are available now.