Newport, Maine.                                
Population…roughly 3,000.                                                      
It is here where the epicenter of the biggest story in high school basketball originates.  
It is here where one of the most highly touted high school prospects in recent memory began his hoops odyssey.
A journey that technically can be traced back to the early 1990s. That's when Cooper Flagg's mother, Kelly, was turning heads on the hardwood at Nokomis Regional High School on her way to scoring 1,257 career points. Nokomis would become the same school where almost three decades later, one of her three sons would begin capturing the attention of the basketball universe.    
Kelly went on to play DI ball at the University of Maine from 1995-99, where she embarked on an incredible run that included four consecutive American East titles and making appearances in the NCAA Tournament all four years. Her senior year, when she was the team captain, Kelly was a starter and led the Black Bear over Stanford to the program's first and only NCAA Tournament win.  
She was already a Maine hoops legend in the '90s, but her contributions to the game were only just beginning. 
Enter…Cooper Flagg. It wouldn't take long for Kelly to notice that Cooper—born seven years after her collegiate run and a minute after his twin brother Ace—wasn't the typical elementary school kid. Looking to challenge him, she enrolled him on a 4th grade rec league team—as a 2nd grader. 
"I remember the ball was going out of bounds on the baseline, the other team's end of the floor. He jumped up in the air and palmed the ball. Cooper didn't just chuck it back inbounds to anybody, he kept it in play and found a teammate at the same time. Moments later, he sprinted down to the other end of the floor and caught it for a layup. I don't know that I've ever seen a 7-year-old have those kinds of instincts," she recalls. "It was apparent to us that year when the rec season ended that he needed more. That is not what you normally see in a 7- or 8-year-old kid.
"There were a lot of weekends we went to play and they would only have five or six kids," she adds. "As a second grader, he never left the floor and would just be exhausted because they would play two or three games in a day. The next year, we got him on a team as a third grader with fifth grade boys. That was a really good fit for him. Their team played more of a five in, five out style."
"I remember the first couple of practices just being really tough. I would come out really tired and exhausted," says Cooper. "I think I had a bunch of bruises. It was just really rough to start out because of how much older everyone was. I was also just as tall as them from a really young age, so I didn't really feel out of place, but you could tell that they were more physically developed than me… That's something that I look back on and I'm really thankful for. Both of my parents always pushed me to play against older competition. It helped me to develop a lot earlier."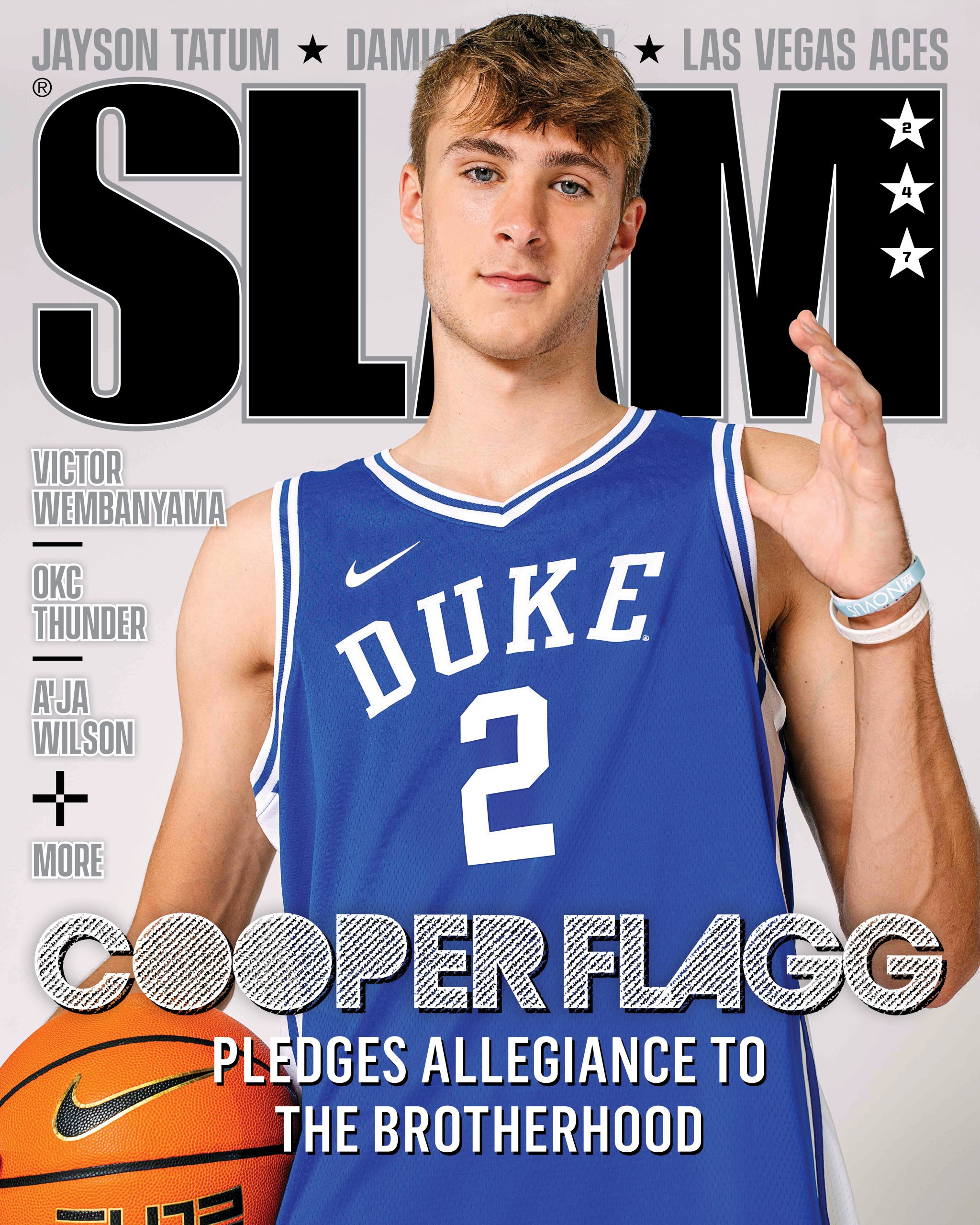 SLAM 247 featuring Cooper Flagg is out now. Shop here.
At the end of Cooper's third grade year, Kelly was approached by Andy Bedard, whom she had gone to college with but had subsequently lost contact with. He had gotten her number from Amy Vachon, the current women's basketball head coach at the University of Maine and expressed interest in having her sons join the youth team he was coaching, which also included his own son, Kaden. Andy had begun hearing rumblings that Kelly's kids were pretty good at basketball. There was only one little problem: Andy was based out of Portland—an hour and a half away from where the Flaggs lived.
But with the family committed to the game (Cooper's dad, Ralph, also hooped collegiately at Eastern Maine Community College) and the boys' continued development, they decided to make the trip multiple times per week, on weekdays. At times, these trips even included numerous family members and car swaps. When Kelly wasn't able to drive the boys all the way to practice, she says her father would take them halfway, where Ralph, who worked in Portland, would meet them. The boys would hop in his car, and he'd drive them the rest of the way to practice.
"We would then hop in the vehicle, and I would have already made lots of peanut butter and jelly sandwiches. Sometimes we ordered a pizza ahead and grabbed it on the way so that they could get some food," says Kelly. "We would get down there for practice at 4:30. We practiced until 6 or 6:30, and then we would head back home. There were a lot of [long] nights for 10-year-olds [where] we were getting home at 9 at night on a school night. It was a big commitment, and we did that twice a week, but it was all worth it."
To help pass time in those long car rides, Kelly would have the boys watch recordings of the 1980s Celtics' championship teams. It helped set the foundation for their basketball knowledge, serving as a way to learn the game's history while also doubling as elite film study sessions… and three-plus hours of much needed in-car entertainment.
"We would always either have the '85 or '86 Celtics championship games on or the Magic Johnson vs. Larry Bird movies. It instilled Bird's mindset within me and Ace. How he was always the hardest worker, no matter what," recalls Cooper. "Especially from that Celtics team that played against the Rockets, it was more about the teamwork and the ball movement."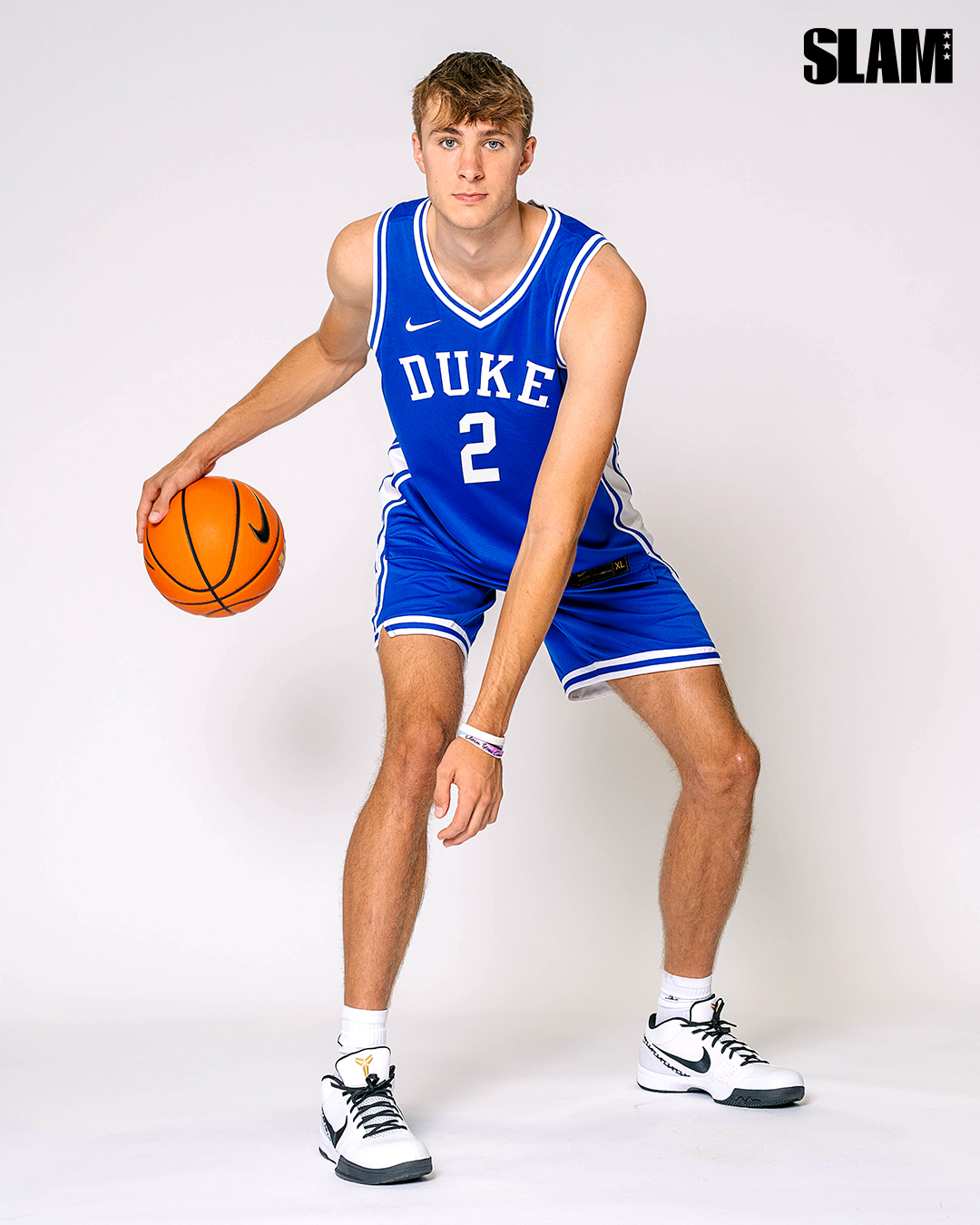 By the time Cooper and Ace were ready to attend high school, it was an obvious choice where they would go—Nokomis Regional, the same program where their mom starred in the early '90s, and, well, the only high school in the city of Newport.
They entered their freshman year in the fall of 2021 under a unique set of circumstances. With the world still reeling from the effects of a global pandemic, Cooper, Ace and his teammates had to wear masks while playing. But more unique was the family affair that the opportunity provided. On the team was also their older brother, Hunter, who was a senior. But as the season progressed, the roles between the younger brothers and their oldest sibling began to shift.
"The team was really bad for years leading up to that year and that run they had," Kelly says. "They were 1-17 for two years in a row. In Hunter's junior year, they were 3-15. Hunter was a big who got a lot of minutes and was a starter in his sophomore and junior years. Early on in [Cooper's and Ace's freshman] season, all three of them started. Cooper averaged six dunks a game in middle school. The buzz that his name was generating in the state of Maine around basketball was extraordinary before he even played his first high school game. People just couldn't wait to see him play. A couple of games into the season after a successful preseason, the coach had Hunter and another senior coming off the bench. The both of them handled it so well even though it was a tough pill to swallow. All the seniors were so gracious and were just excited to have a winning team. Even the parents of the senior boys were amazing."
That season ended up being one for the ages. The team went 21-1 on their way to capturing the state title. Cooper began to show the same flashes of elite talent that the rest of the world has now caught up on. He averaged 21 points, 10 rebounds and 6 assists that season as a ninth grader. The USA Basketball website highlights one particular outing where he dropped 32 points, 13 rebounds, 9 assists, 5 blocks and 3 steals in an early January game.   
"[Having Ace, Hunter, and me on the same team] was always something we were excited about. It was a really fun year in general because it was going to be our last year with Hunter. We knew that we probably weren't going to be going back to Nokomis after that year, so we had a lot of fun with it," says Cooper. "Winning the state championship together was a dream we always had, and something we wanted to do together for the community… We knew what the team was going to be because we had a fall ball team that had been playing together since the summer. Ace and I had been playing up with the varsity [team] during the summer."   
As if the Flaggs' story so far wasn't already a Hollywood-type script, the story behind the supporting cast of that championship team really drives home the point. When Kelly was a senior at Nokomis, she shared the floor with teammates Penny, Jaime, Katie and Amanda—fast forward some three decades later, and their respective sons—Dawson Townsend, Ethan Cote, Alex Grant and Madden White—were all now sharing that same floor with Kelly's kids at the very same school. A reminder of just how small the Newport community really is.  
After the movie-esque season, though, came a difficult decision. The family had to decide between continuing their high school careers at Nokomis or making the sacrifice of relocating in search of a chance to take their games to the next level. In the end, the latter took precedence, and Cooper and Ace found themselves on their way to Florida for their sophomore campaigns, enrolling at national powerhouse Montverde Academy. Aside from featuring an unmatched alumni list that includes Cade Cunningham, Scottie Barnes, Ben Simmons, Joel Embiid (transferred out), D'Angelo Russell and RJ Barrett, among a plethora of other NBA players, the Eagles are renowned for their state-of-the-art facilities and playing a top-notch national schedule that competes against the country's top talent. It's been regarded as the closest thing to a DI program at the high school level. In fact, since 2021, Montverde has had 12 players selected in the NBA Draft. In contrast, during that same period, Duke has had eight and Kentucky has had seven.    
"There were these whispers about a kid that was potentially very good, from Maine of all places, and they were playing at The Big House, which is 30 minutes from our school in Florida in a Made Hoops event," recalls Montverde head coach Kevin Boyle. "So, I went there to watch some of our younger guys and to see what kind of potential Cooper had. You could just see he had a competitiveness and athleticism that at minimally, he was going to be an outstanding player."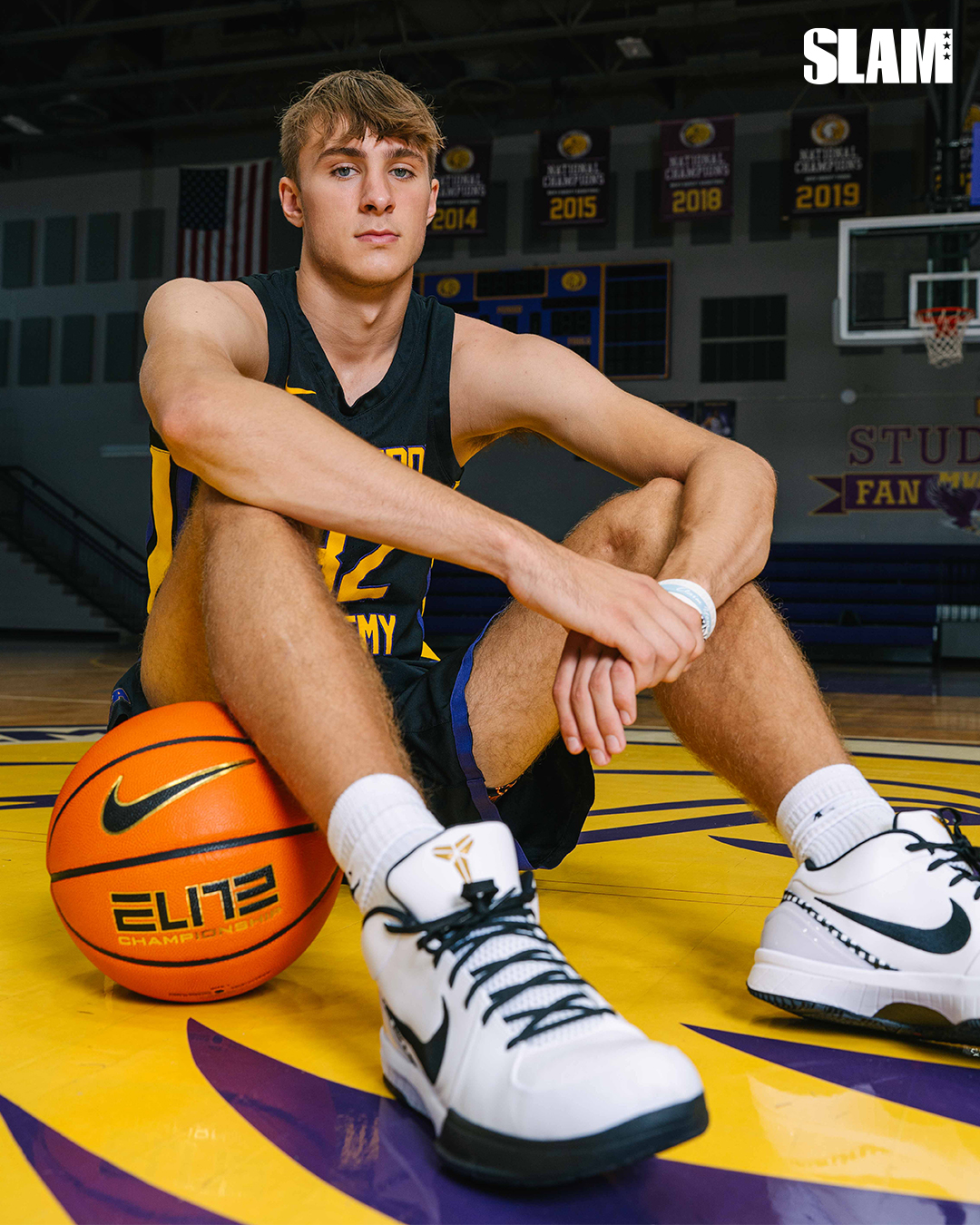 The move to Montverde helped raise Cooper's profile on a national scale while also taking his game up a notch. In 2022, he became the youngest ever USA Basketball Male Athlete of the Year.
The competitive side of Cooper is no more evident than when you hear him talk about the driveway battles he's had with his family throughout the years. Those would get really heated sometimes, and no one was safe from it, not even his own mother. 
"Countless hours spent in the driveway battling against both of [my brothers]. Too many fights to remember. Just a lot of fun we used to have playing against each other and just battling," says Cooper. "Me and my mom used to battle all the time [too]. I think the last time we played was in fifth grade. She actually got hurt when we were playing, and we haven't played since. So I never beat her. I was beating her that one time. I was up 9 to 8 in a game to 11, but then she got hurt."
"That's not exactly the way I remember it happening," says Kelly, after getting wind of Cooper's 1-on-1 recollection. "He may have been in the lead, but I'm sure had I not torn my meniscus, I would have come back and beaten him in that game. I drove to the left and did a hard jump stop. He went flying, and I would have scored and tied up the game. When I planted it, I just felt [like] something was not right. So, he technically has never beaten me.
"I didn't play them that often," she adds. "Every once in a while, I would get in there just to remind them who the boss was. All three of our boys had battles. Those occurred daily, or at least several times a week. Every single time that the three of them went out to play, we knew that it was going to end in some sort of physical fight or verbal altercation. There was usually someone bleeding at the end. The ball was chucked across the street. It didn't end well. I attribute that to their competitiveness, especially in those early days of wanting to win."
Stories of just how competitive Cooper is are rampant. When Coach Boyle is asked for a story that perfectly reflects Cooper's personality, he laughs for a few seconds before recalling the time Cooper had to be separated from a practice scuffle…with his own twin brother.
"It was Cooper and his brother swinging at each other in practice when they were on opposing teams," Boyle says. "They got tangled up in a few plays and we had to break them up after throwing punches at each other. It's a good story because it just shows the competitiveness in him because the family all love each other dearly, but when they're on the court, they're competing. It's one of the few fights at practice we've had since I've been at Montverde. It brought a smile to my face, it brought me back to the St. Patrick [HS in Elizabeth, NJ] days."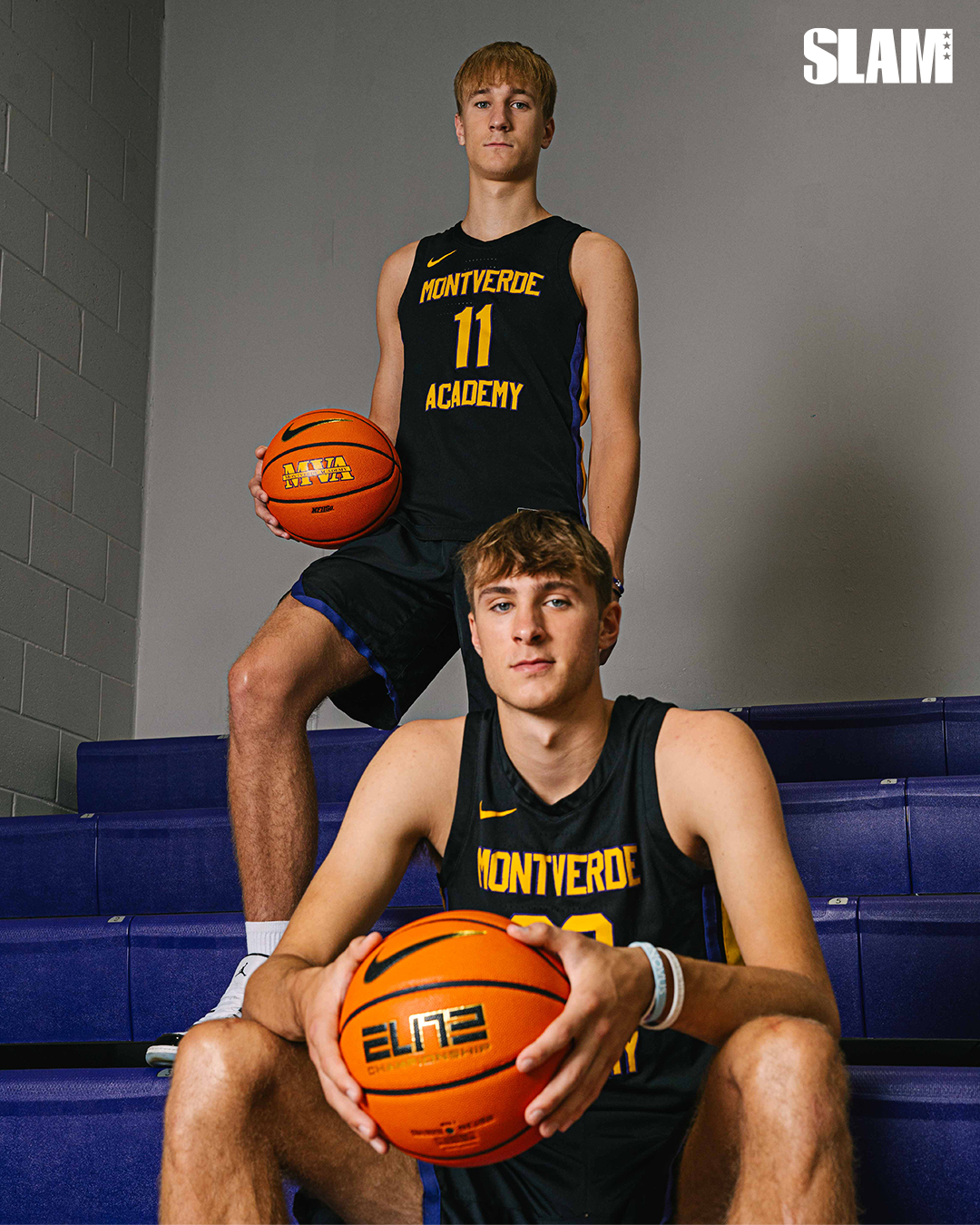 As impressive as his game is, it's the fact that he's still only 16 years old that really hits. He'll be 17 for his first four months of college since his birthday isn't until December. Beyond the skill set, hard commitment to both ends of the floor, impressive athleticism, otherworldly confidence and poised demeanor, Cooper is barely old enough to be in his current grade. 
This past summer, though, Cooper Flagg-mania hit a new tier. Unless you spent the warmer months of 2023 living under a rock, you likely saw highlights of Cooper in your feed at some point while scrolling on your phone. His name would trend on Twitter periodically and videos of him absolutely manhandling his peers drew the attention of hoop fans and added fire to the frenzy. This all led to an epic run at the Nike EYBL Peach Jam.
Playing for Maine United, which earlier in the spring looked to be in jeopardy of even qualifying for Peach Jam, Cooper and company ended up going on a Cinderella-type run in the days that followed. Although they entered the U16 Peach Jam with a 9-9 record, the team went undefeated (4-0) in pool play on its way to the championship game, where they ultimately fell short. Flagg averaged 25.4 points, 13.0 rebounds and 5.7 assists in the tournament and even had LeBron James approach him at one point to chop it up—an interaction that made the rounds online.
"It'd be tough for anybody to do a scouting report on me in terms of how they're going to take me out of a game," Cooper says. "They can take certain parts of my game away, but I think that I'm too versatile and too much of a well-rounded player that no team can take me out of the game.
"In terms of challenging, I don't really know if I could say something that's really challenging because most of the things that people would see as challenging are an outcome of some opportunity that I've been given. You have to look at it in that way."      
For Cooper, though, it wasn't just about shocking the world in leading an unbeknownst AAU team from Maine, of all places, to the title game of the most prestigious grassroots circuit in the world—all after barely maintaining a .500 record going into the final session. It was more about the fact that this very same AAU program was full of teammates that he met when he would travel 3+ hours for practice as a fourth grader. It was the culmination of an almost decade-long journey alongside some kids from The Pine Tree State with similar hoop dreams as his.        
Not long after, Cooper found himself having to make yet another high-stake, life-altering decision this past summer: stay in his current class and continue to the dominate everyone in front of him, or reclassify up and join the senior class of 2024, which would expedite his ultimate dream of going pro one day. He chose the latter, of course.
And although everyone watched his meteoric rise this year on social media, what they didn't see was that behind the scenes, Cooper was taking summer classes when he wasn't traveling around the country and tearing up every event he stepped foot in, all in order to put himself on track to have enough credits to reclassify up to the Class of 2024.  
"It was really tough because when I was home, the main thing I was doing was schoolwork," Cooper says. "I had to focus on schoolwork over seeing my friends that I hadn't seen in months. Trying to balance all those different things was tough but something that I had to do."
All those previous decisions led to this current decision, his most important one yet. Deciding between UConn and Duke. Cooper visited both campuses in recent weeks, and when it came time to pick a destination, he went with his gut feeling, just like he has with every other decision.
"I think after I got on campus at Duke, I really started to feel it, to be honest," he says. "That's something the coaches definitely stressed to me, that once you get to campus, it's something you have to feel. And [I knew then] I wanted to go to Duke and that's where I wanted to play college basketball. What went into the decision, I mean, I was just looking for a coaching staff I was really comfortable with, but [also] a coach and staff that was really going to hold me accountable. Being on the visit, I got to see them in practice, and see how they were holding their guys accountable, and really pushing them to be better. For me, ever since I was a little kid, I always had dreams of playing Division I basketball at the highest level. Especially with a place like Duke, once we got to campus, we felt it.
"I'm honored that I have the opportunity to join The Brotherhood, and hopefully I'll be one of the players that recruits are looking at some day and someone they can see themselves being. Especially from all the love I saw this last weekend when I was there, it made me really excited, all the [Cameron] Crazies and the fans. I think it's going to be a really exciting year and [fans] should just get ready because I know that I'm all about winning, so I'm trying to keep that winning culture that Duke has."
In Durham, after wearing No. 32 his whole life—a jersey number retired by Duke thanks to Christian Laettner—Cooper has chosen to wear No. 2 instead next year, in honor of his close friend Donovan Kurt, who attended Nokomis Regional back in Maine (he wore No. 2) and passed away last year after a long battle with brain cancer (visit here to support families of children fighting cancer in Maine).          
"[This] is something that I'm trying to carry with me. [I want to] prove that kids from Maine can make it if they put their minds to it and they really work hard enough," says Cooper. "That's something that I'm taking a lot of pride in. It's proving to everybody from Maine, the rest of the country, and around the world, that kids from Maine can make it."     
---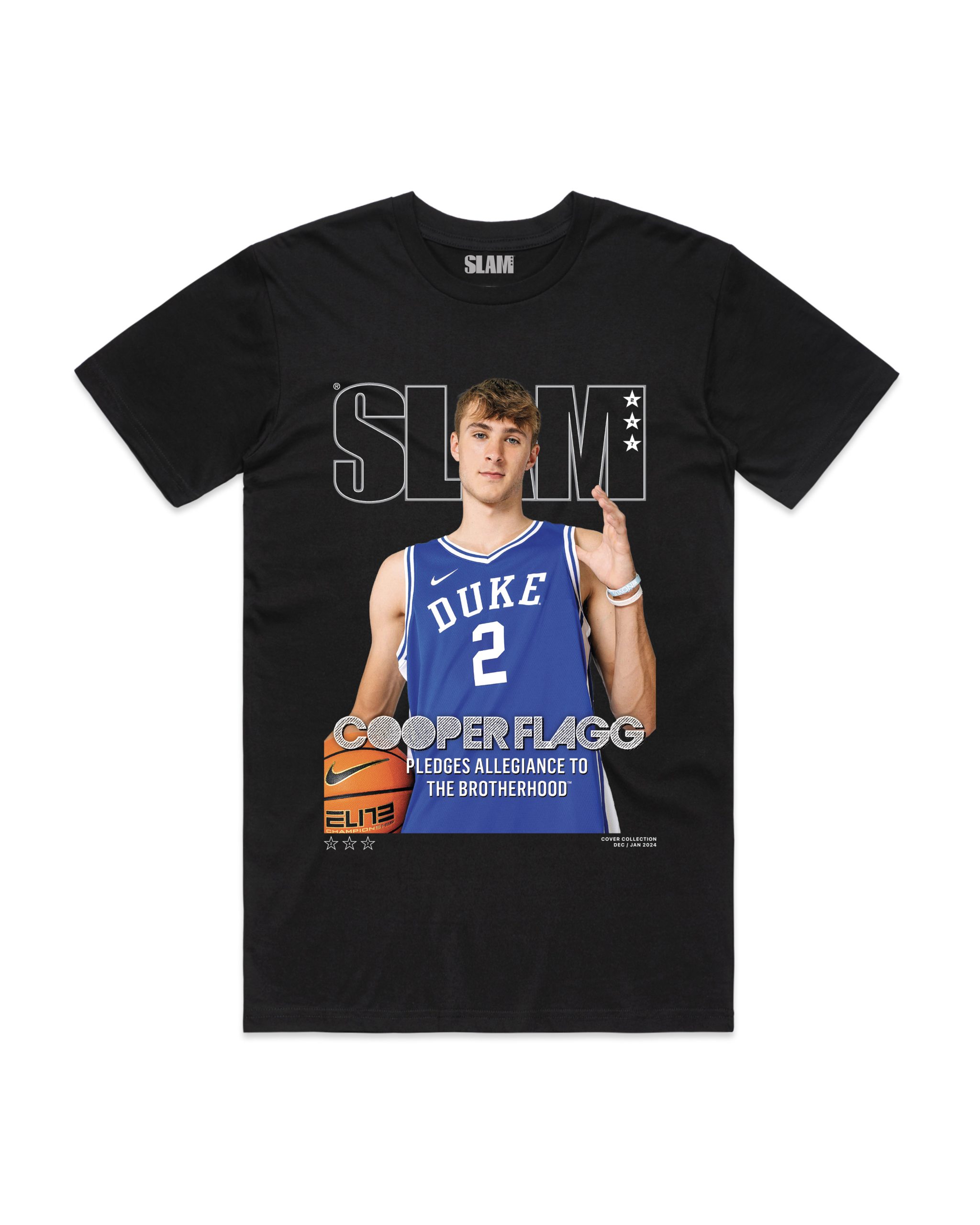 SLAM 247 COVER TEES AVAILABLE NOW.
Portraits by Marcus Stevens.