This story is featured in SLAM Presents UConn. Shop now.
The phone rings. Geno Auriemma's name pops up on the caller ID. It's October, and the UConn head coach is surprisingly upbeat and pretty chatty given the business-first demeanor he typically exudes on the court, and most definitely to the media during press conferences. He's a legend, the Leonardo da Vinci responsible for igniting a renaissance in Storrs—and, really, all of women's hoops—by creating the formula for the most successful program of all time in NCAA women's basketball. No one has more championships or Final Four appearances than the Huskies. No one.
How'd he do it? Here, Auriemma reflects on his career, his legacy, and if he thinks anyone else will ever be able to do it like he has…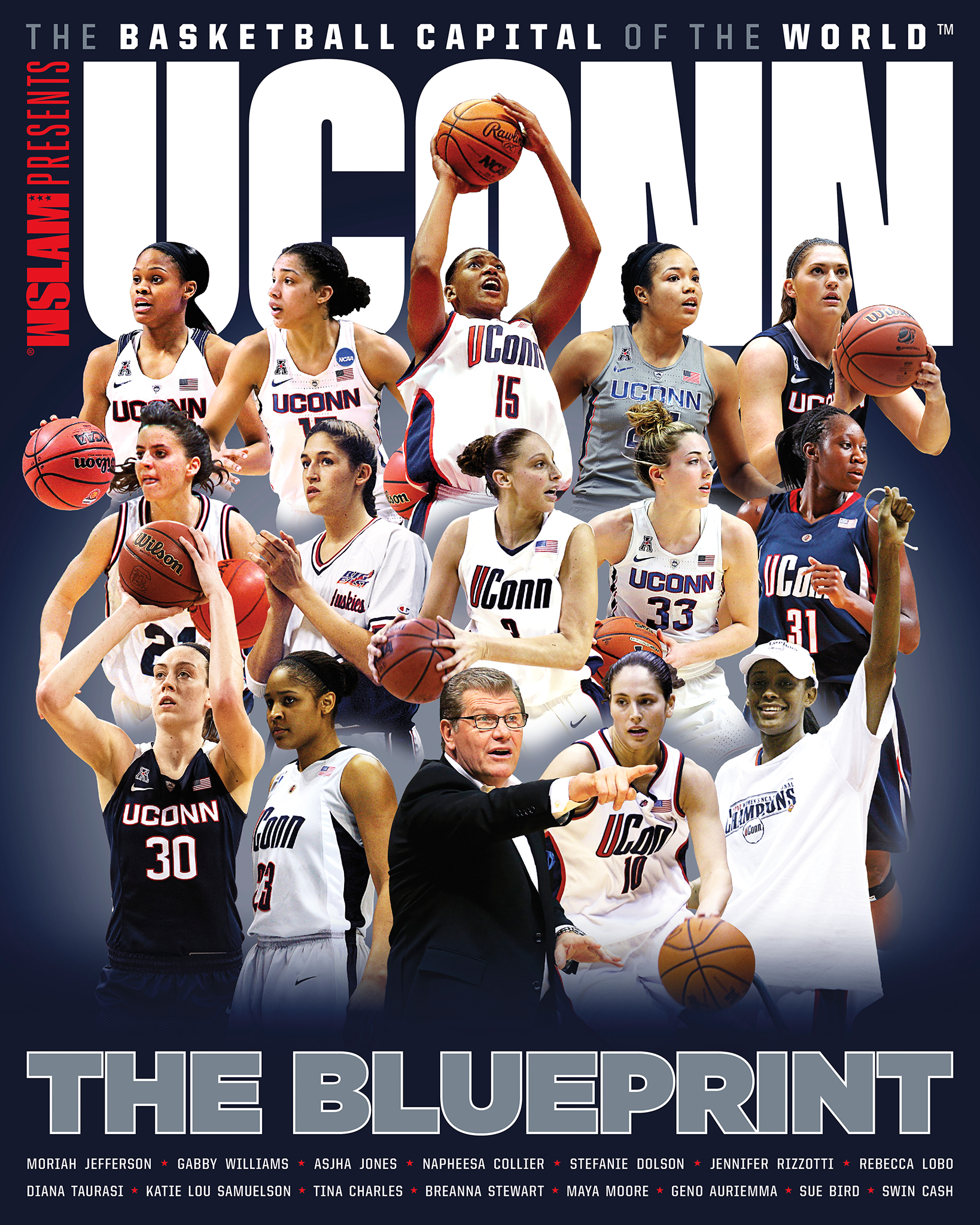 SLAM: Coach, it's an honor. How are you?
GENO AURIEMMA: Things have been going pretty well. We just started official practices, so we haven't been going for very long. Those have gone pretty well. We'll see what happens in the next week or so, but so far, so good.
SLAM: How do you approach the start of every season?
GA: Each year brings its share of similarities. There are certain things that you want to do, [but] there's also the unknown. What kind of team are we going to have? What do we have to do different[ly] to accommodate this particular team? So it's similar in some ways, it's different depending on the personnel that you have. But always the excitement is there, the challenges are there every summer, they're just different. It's refreshing to get back on the court because that's what we like to do. We've been doing this for a long time, and I think we have a pretty good routine that we follow and we go from there.
SLAM: How does year 38 feel?
GA: It's 38, 39, I don't even know how many it is. It's got the feel of other seasons that you're excited and anxious about. You're curious to find out how it fits together. You get someone like Paige Bueckers back, there's a real excitement in the building. There's a real excitement on our team. Aaliyah Edwards played a lot of basketball last year and a lot of minutes, Nika Mühl, the two of them. Aubrey [Griffin] played a ton of minutes. They picked up valuable experience. For me personally, there's a lot of excitement of wanting to see what this team could be. I feel like it's my job to make sure they get all the resources and guidance that they need from me and my staff to make it work for them.
SLAM: Let's transition into the early days. Do you remember where you were when you heard the news that you got the job?
GA: No, I was here. I got a chance to meet with everybody I needed to meet with. I thought it went really well. Then the next day, our Athletic Director at the time, John Toner, who was also the President of the NCAA that helped implement Title IX took me aside. We got in his car and drove down to a Dunkin Donuts. We walked in and sat in those swirling stools that they had at the counter back in those days when they had counters at Dunkin Donuts. We had coffee and he looked me in the eye and he asked me if I wanted to be the coach of the University of Connecticut. He told me that I had to do this the right way and everything had to be done the right way. He put his hand down and shook my hand and that was it. I was the coach at the University of Connecticut just like that. I got back to campus and we went into the office and he handed me a one-page piece of paper. It said I was going to be the coach at the University of Connecticut for five years and I was going to get paid this and had to sign here. I signed it, and that was it. There was no agent involved. There was no negotiating a salary. It was just a handshake. Here's your contract, $29,000. Take it or leave it. 
SLAM: During the ups and downs of the early years, what kept you going?
GA: What happens in these situations is, who you have on your team, in your program, on your staff or whatever, that's the sources of your motivation. Those three years that it was a struggle, we kept our fingers crossed and just kept working. Even though it was difficult, and there were doubts, we never expressed those doubts to anybody—those were internal. On the outside, everybody thought everything was great and we're pushing and we're committed and we're going to be great. The reality was, this was really, really difficult, and we knew it was going to be difficult, but we didn't know it was going to be this hard. And like I said, it wasn't until 1988, and 1989 when we won the regular season and tournament, that there was some validation. When we did win, it was now, How far can this group go? It turned out we were able to get to the Final Four. Then we were able to get Rebecca Lobo to come to UConn. We had a terrific group of people with her and right behind her that made it [feel like], Yeah, I really don't want to be anywhere else. I want to be right here with this group of people.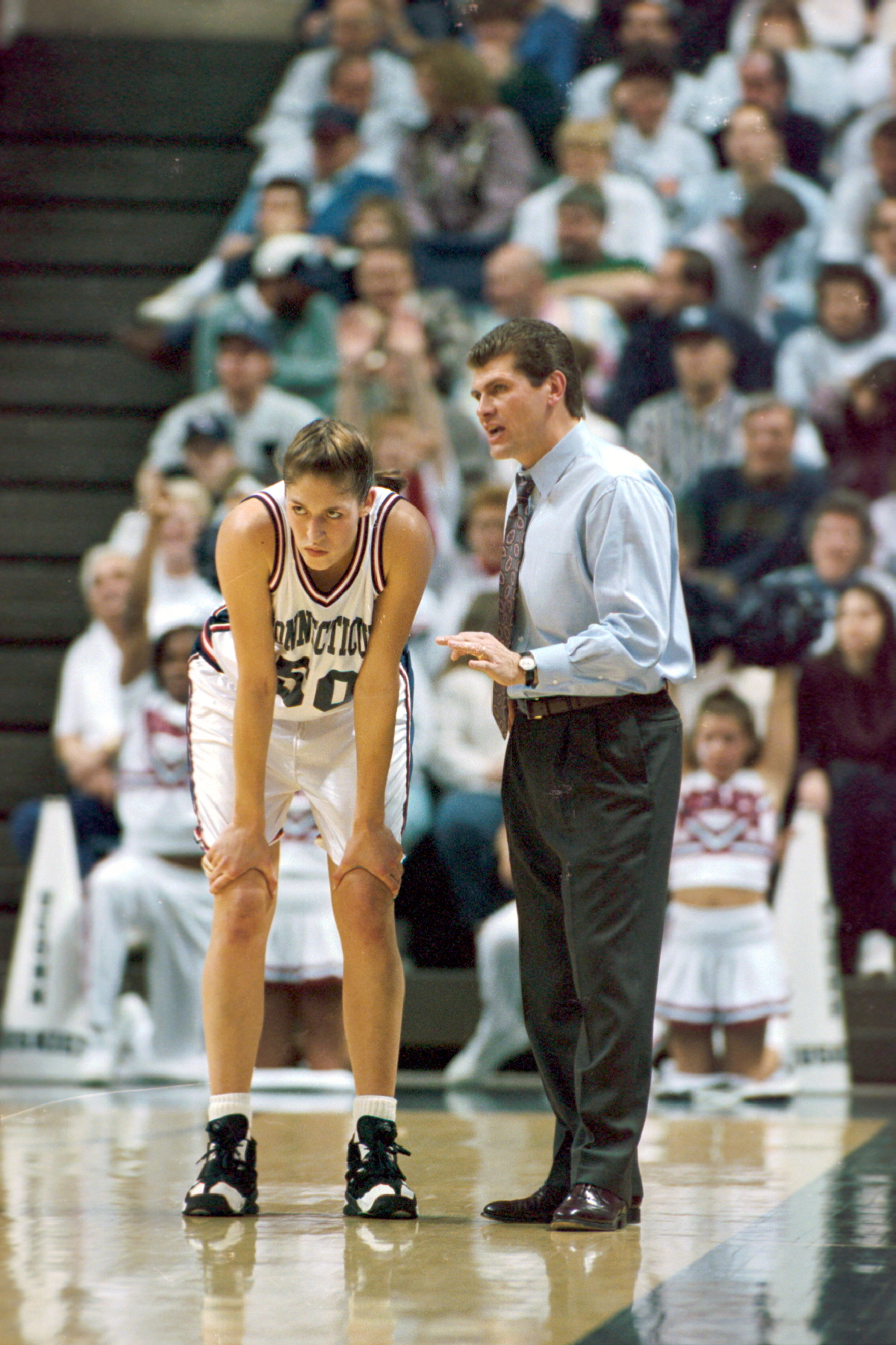 SLAM: You're known for cultivating future WNBA stars. Do you see who your players can become before it even happens?
GA: When we see a player in high school, we have an impression and we say, Hey, I see similarities between this kid and so and so. They get to campus, and as you start coaching them, you start to feel this like, Yes, this kid's really got something, or, Man I really missed on this one. Or, you didn't expect much, and you go, Wow, this kid is way better than I thought. You coach all of them from the beginning like they don't know anything, and that's the way we've always done it. Whether we get a kid who didn't make first-team All-State, or we get a kid who was Player of the Year out of high school, we coach them the same. We start at the beginning and we try to make them better players. We're not going to go in there and think that because they're this talented or because they were all this, that they are ready to go. No, we treat them like they don't know anything. Over a period of time, we keep hammering away at that stuff, they turn out to be pretty good basketball players. And then yeah, it gets defined by that—this is the Rebecca Lobo era, '95's National Championship. Our first All-American was Kerry Bascom, and that era [we] went from finishing last in the Big East before we got here to going to the Final Four. Then on Rebecca's team, we had Jennifer Rizzotti, National Player of the Year. We had Kara Wolters, National Player of the Year. We had Nykesha Sales, who ended up being a two-time All American here and a WNBA superstar. The Diana Taurasi era had four Olympians and multiple All-Americans and National Players of the Year. The Maya Moore era with Tina Charles and Renee Montgomery and just amazing All-Americans and great players. The Stewie [Breanna Stewart], Stefanie [Dolson], [Morgan] Tuck and Moriah Jefferson [era].
All those eras involve so many good players. Each one of those players was treated the exact same way. They were all coached the exact same way, and maybe that's why we had similar successes with every one of them, because we rarely changed the formula. I don't care if you came in with the ability of Maya or Stewie, or you came in with limited ability like some of our other players, it didn't matter. We were going to coach you the exact same way and we were going to get the same results. Looking back, that consistency of how we've done it is something we're proud of.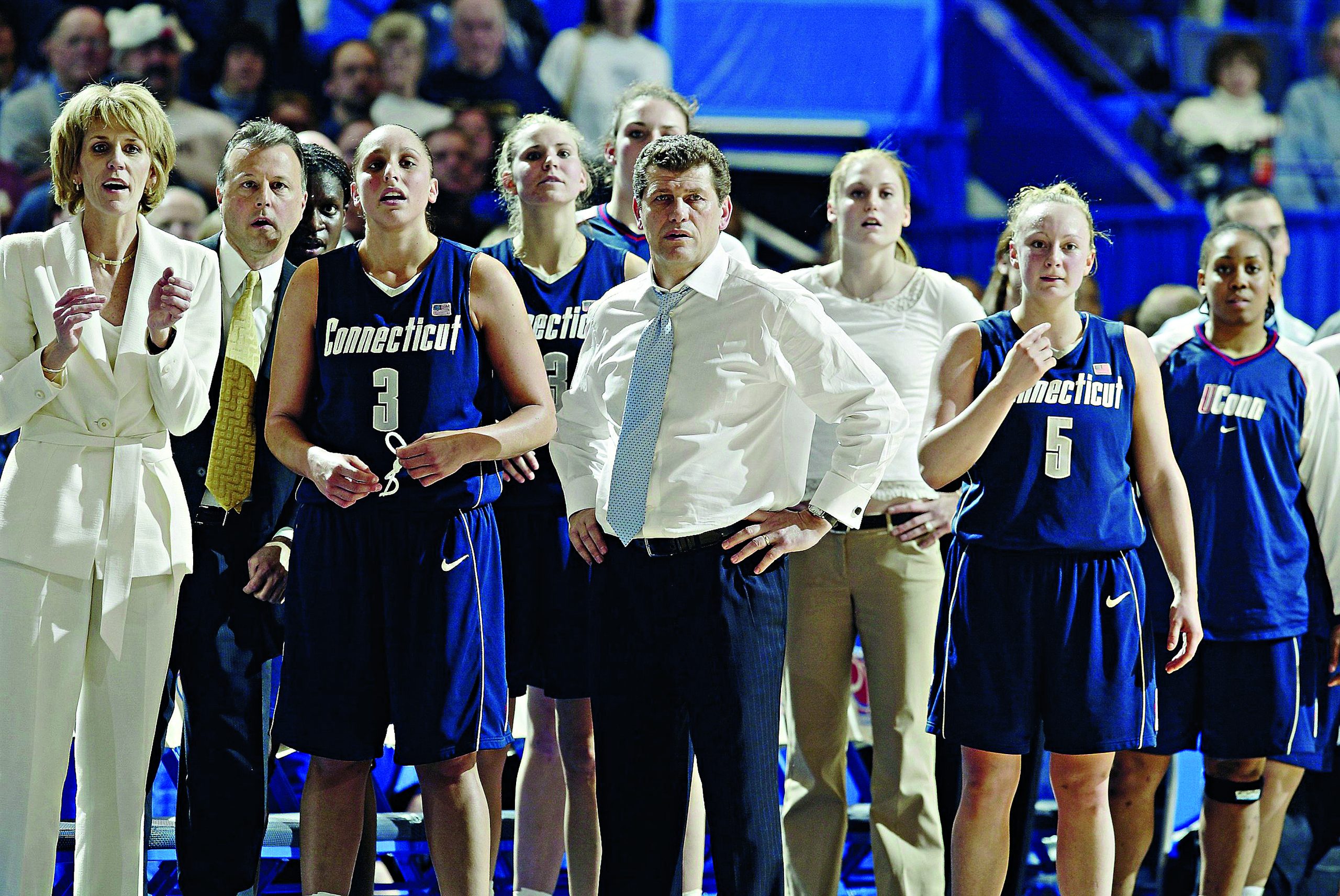 SLAM: Do you think the formula and consistency are what's contributed to the program's success?
GA: For sure. The response that we get a lot of times is, You have the best players. And I would think, well, we have some of the best players, but we don't have all the best players. If we're able to get two of the best players in the country every year, that's only two out of, say, 24 in the All-American Game. So, the other 22 went someplace [else]. So you can't just say we won because we get the best players. But I think the consistency and the kind of players that we get, that to me is the differentiator between us and other programs. It doesn't mean that what we do is better than anybody else. It's just a little different. Again, we don't win every year. This is the part that's funny: We've gone to 22 Final Fours and those 22 Final Fours have all come since 1991. So that's in 33 years. That's pretty amazing. Twenty-two Final Fours in 33 years. That's fantasy land, OK? In 22 Final Fours, we won 11 national championships and we've lost 11 times in the Final Four. We don't win all the time. I think our goal is to just put ourselves in position to win all the time; it doesn't mean we're going to. And that's not the easiest thing in the world to do. In today's internet world, you're either the best in the country or you're the worst in the country. Nobody ever says, Yeah, they're pretty good! Which is sad because there are a lot of pretty good teams. But now you're either top or you're the worst. There's no in-between. That's not the real world. If you're a team or a coach or a player, you start to feel the pressure of those expectations. If you're not careful and you get caught up in that, it doesn't matter how many good players you have, you're going to have a hard time winning.
SLAM: What has been the biggest factor that's made the program click?
GA: We've heard all the time that the UConn era or the dynasty is in demise, you know, that it's—it goes back to what I said: there's this perception that if you're not winning national championships, you're not very good. I just think that, what makes it click, especially in today's world, is that you don't allow yourself to be caught up in all that stuff as a player. You don't become [caught up in the] internet and what people are saying about you. You keep recruiting players that are more selfless than they are selfish.
[Players] that are willing to give up a little bit of themselves in order to win a championship and to play with other terrific players. There's a lot of players that want to go to a school where they're going to be the center of attention and it's going to be all about them. What makes it click for us, and why people would talk about us the way they do is because we do find players that want to sacrifice some of their own goals for the big goal, the team goal. That's a little bit rarer today than it was when I started.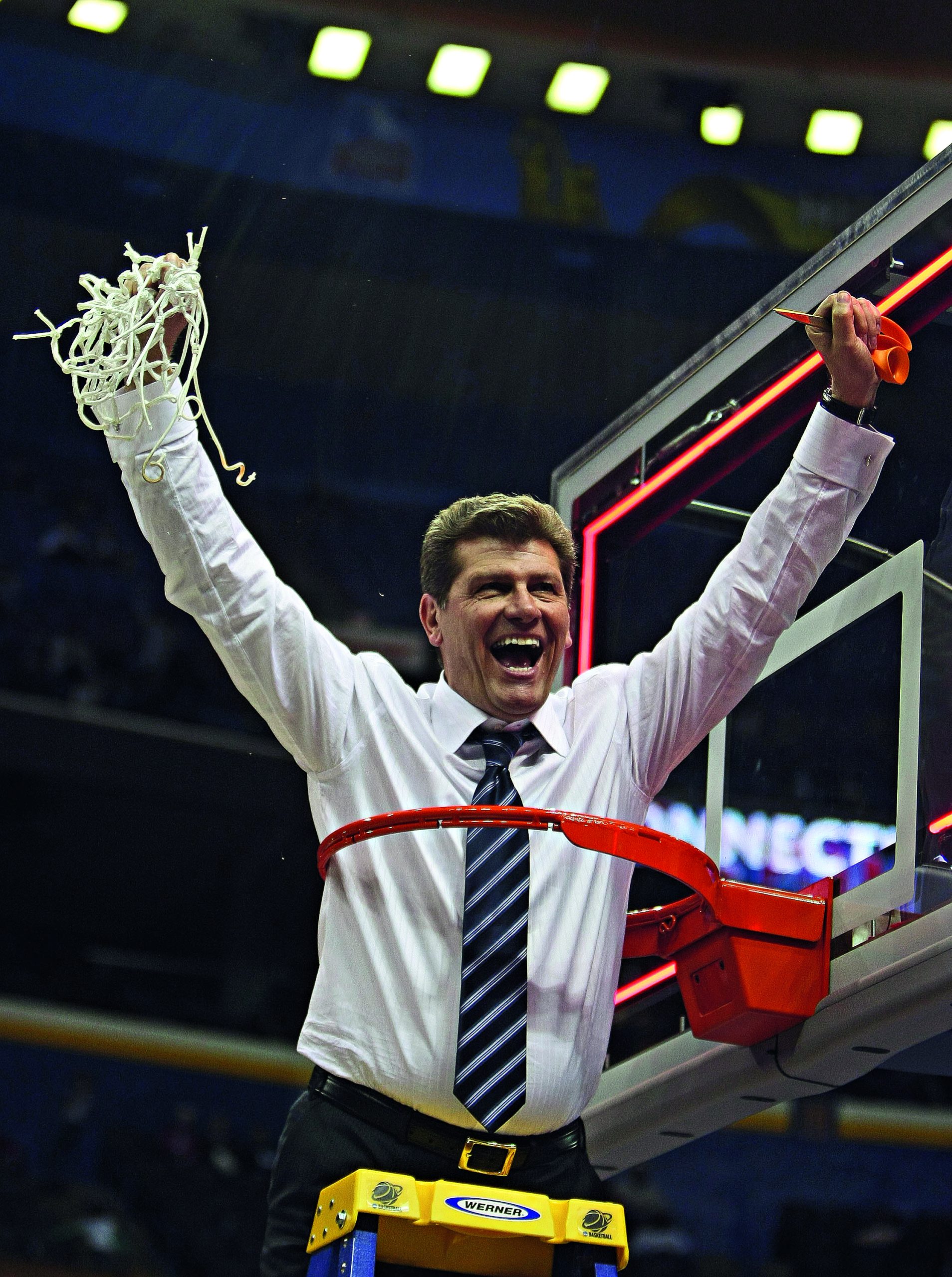 SLAM: Have you thought of your legacy?
GA: I've thought about it during those times, when, maybe at the end of the season, you just finished a very difficult season. Maybe you're celebrating a championship or you're disappointed in how the season ended, and you wonder, Do I have it in me to keep doing this? How much is taken out of you to accomplish all these things. And you look back and you see the things that have happened here—I don't know that I think of it in terms of who's coming after me or what am I leaving behind, but I think some of the things that we're going to leave behind are probably undoable in the future. I don't think anybody can sit here and say, OK, pick out a coach that you think is going to win 11 national championships that's coaching today. You'd be hard-pressed. Pick a team that won 111 in a row. Pick one that won 90 in a row, three times…Name a program that's going to go to 14 straight Final Fours. Things that we've done legacy-wise are going to be undoable now. That's probably not a bad thing because that means that the game has grown so much that it's going to be more difficult to accomplish any of those things. Players are going to more schools than ever before, different schools. Coaches are doing a phenomenal job of not just recruiting, but of coaching. The legacy that's going to be left here by those people that have worked here and played here, some things—we're going to be in the record books for eternity. That's something to be proud of, from myself to be proud of, which I am, all the coaches that have ever coached with me and every single player that put on a uniform here at UConn over those 39 years. It's their legacy, too.
---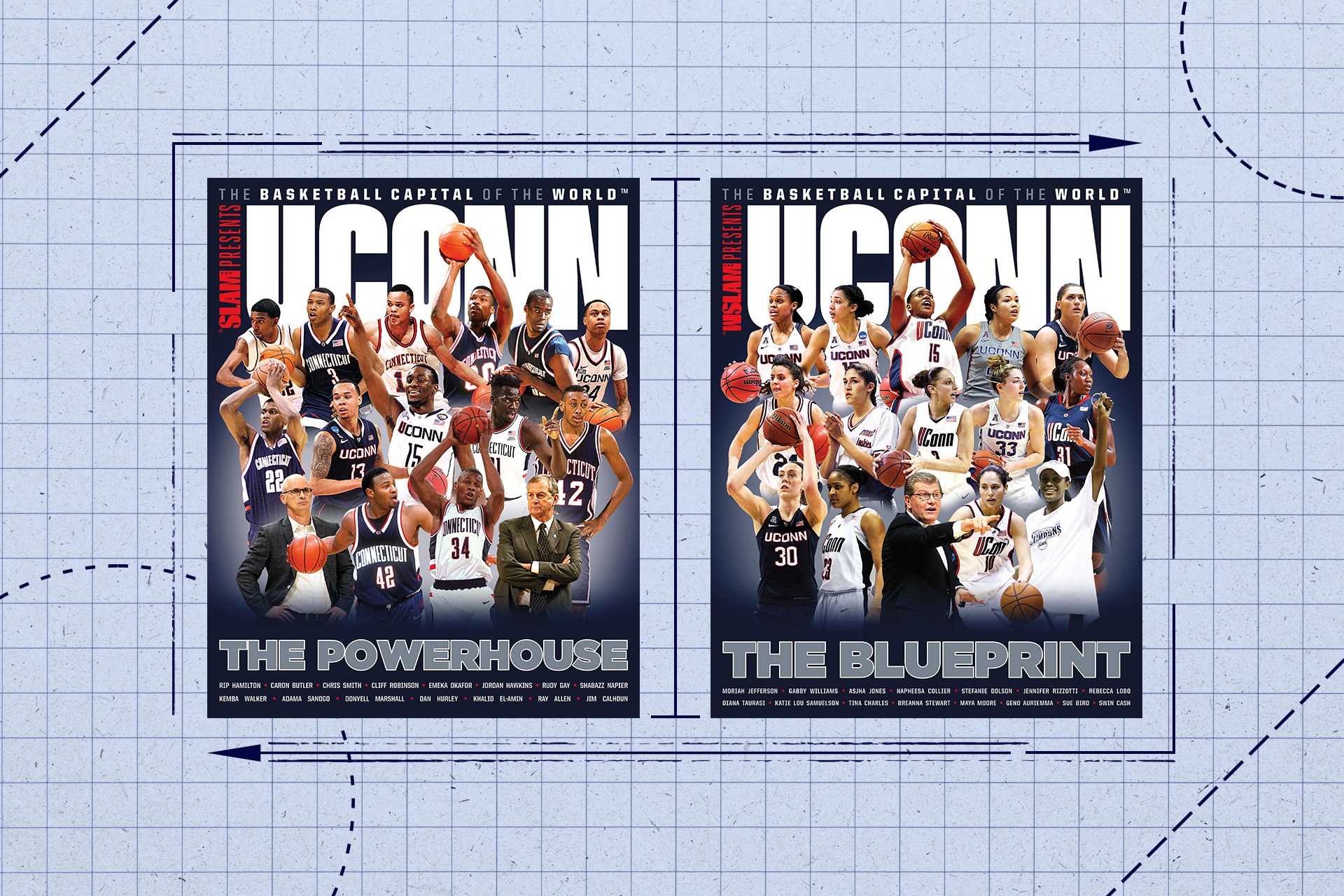 SLAM Presents UConn is available now. Shop gold metal editions and more.
Photos via Getty Images.